One coat vs two-coat metal roof coating systems
When we look at the coating of metal roof sheets and extending their life, we are always looking to improve our product offering. To help us with this, we often ask our Approved Contractor Network for their feedback.
One of the questions I get asked the most is "Can your metal roof sheet coating be applied in a single coat?" The technical answer to this is "Yes, but we would never recommend it". Although it is possible to achieve the required wet film thickness in a single coat, we feel that the risk is just too great for both ourselves and the installing contractor.
The only obvious advantage to single coat application is the perceived labour saving and whilst this could appear to be significant over larger roof areas, I would question whether it is even possible to achieve a consistent film thickness in one coat without the risk of missing areas which could ultimately lead to premature coating failure and this, in our opinion, far outweighs any commercial benefit.
We insist on our roof coatings being applied in two coats for several reasons, but the most important of these is that it gives the applicator a much more realistic chance of achieving the required film thickness without missing any areas.
When we recoat an existing roof, our clients' preference is usually to match the colour of the existing roof sheet. To do this in two coats is easily achievable as you can apply the first coat in a contrasting shade to the existing roof and then apply the second coat in the required final colour. However, if you are trying to do this in one coat, even for the most skilled applicators, this would pose a massive challenge because the colour you are using matches that of the existing roof sheet. This means you cannot easily see the areas you have coated.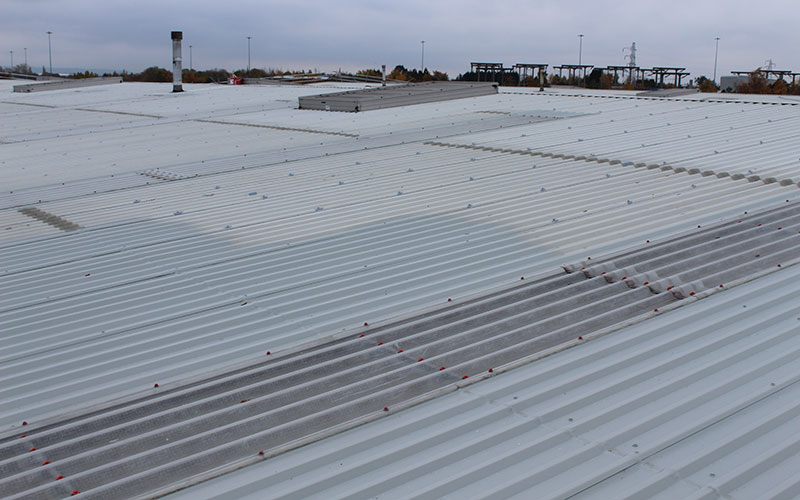 One of the most effective ways of achieving a consistent coverage rate is to grid the area out and use a volume to square metre equation meaning X number of tins covers Xm². But even this is not always effective for a one coat system as it doesn't remove the risk of low build areas or indeed complete misses.
Then there is the question of what to do if areas are missed or indeed if the whole roof is applied below the required film thickness. With a two-coat system, you have the opportunity to check the dry film thickness of the first coat and then adjust the wet film thickness of the second coat as necessary, this method has the added advantage of not affecting the contractor's labour rate as they would have costed for two coats. Contrary to this, with a one-coat system you effectively have one chance to get it right because if you miscalculate, not only do you have the material cost to consider but the labour cost has now as much as doubled.
Another hazard that we have seen more recently is that some newer one-coat systems on the market do not adhere to themselves and require a reactivation coat as an adhesion promoter. This has now changed a one coat system into a three-coat system and added even more labour time and cost to the project that the contractor would not have factored into his project price.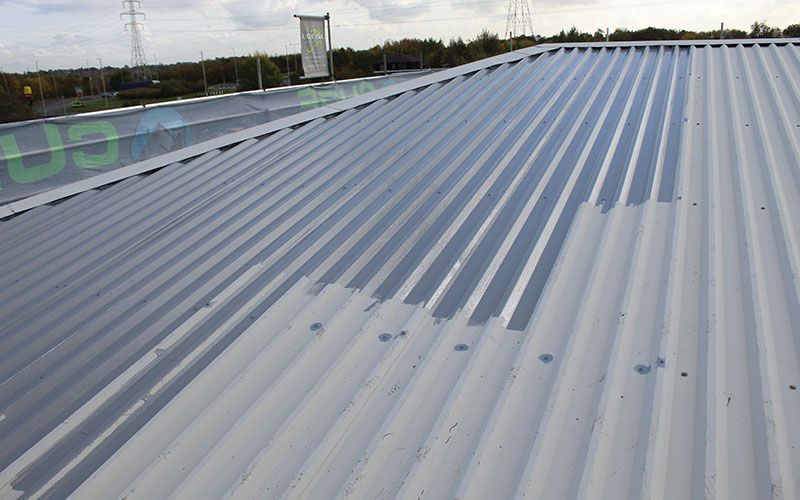 Sharmans Delcote Architectural Coating system has been on the market for over twenty years and during this time, the specification has not changed. It is a two-coat system applied in contrasting colours without the need for any additional reactivation primers. As stated, it can be applied in one coat but for all the reasons above, we feel the best advice for both client and contractor is to insist that two coats are specified.