Seamsil 300 Gutter Joint Repair System
Seamsil 300 Gutter Joint Repair System, the long established system manufactured by Delvemade is now only exclusively available from Sharmans.
Industry leading 12 month guarantee.
Market leading proven performance from a trusted brand.
Engineered for the gutter environment using inorganic Alkoxy technology to prevent chalking and deterioration.
Excellent elastic and flexible properties to withstand normal substrate thermal and UV movement.
Seamsil 300 gutter joint repair is a silicone based system engineered specifically for sealing joints in galvanised steel, aluminium and asbestos gutter systems. Seamsil 300 has exceptional adhesion and cures to provide a tough elastic seal.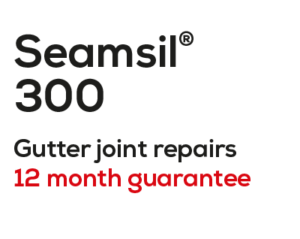 Principle advantages of the system include:
Silicone systems have excellent elastic and flexible properties to withstand normal surface movements.
Seamsil uses GE Technology with its proven long life, being unaffected by UV or extremes of weather and temperature.
Seamsil silicone systems have exceptional adhesion to cleaned and prepared surfaces and cure to provide a tough, elastic seal, effectively encapsulating the damaged area to restrict further deterioration.
Proven track record in corrosion control.
Key performance features
Outstanding weathering and UV resistant.
Simplicity in application – roller, brush or airless spray.
Ideal for use in areas with industrial pollution and/or coastal or marine environments.
Naturally corrosion resistant.
Naturally water repellent.
Primerless adhesion.
Chemical resistance.
High elasticity, pliability and flexibility.
Thermally stable for -100⁰C to +200⁰C.
Will not chalk and degrade.
Site Surveys and Technical Support
From site survey, condition reports and specification generation through to installation, inspection and guarantee, we support you all the way.
We run regular training courses at our purpose built training centres in Derbyshire and Wiltshire.
Quality assured and guaranteed for a minimum period of 25 years, the Plygene® Gutterline system provides complete peace of mind. Refurbishing old, degenerating gutters can be a real problem –…
Barnsley Football Club had been experiencing leaks over seats in the main stand to the dismay of football fans for over 5 years.
Factory engineered to meet this complex site challenge. When Midlands-based facilities management and construction specialists Oakley Industrial Services were asked to provide a fully extended lifecycle solution to 1,400 linear…