Plygene Gutterline - The Market Leading Choice
Whether you are a surveyor, architect, building owner or facilities manager, when it comes to gutter refurbishment, the Plygene Gutterline system is the market leading choice for all specifiers. With over one million metres of system liner and 500,000 system components installed in the last 5 years across 10,000 completed projects. Plygene Gutterline's proven pedigree is second to none.  
In contrast to competitior's general roofing products, Plygene Gutterline is the only BBA approved gutter lining system specifically engineered to restore and preserve gutter performance. Through ongoing product development, the system has been designed to meet the challenges of gutter environments whatever their configuration and complexity and provides a 25 year guaranteed end to leaks and the damage they cause.  
Plygene Gutterline - Guaranteed for 25 years
Bespoke manufactured to match the profile of the existing gutter, the Plygene Gutterline system maximises the building's initial BS EN 12056 – 3 rainwater flow capacity design for the building. The thermoplastic liner is factory creased to the angle profile and the bespoke moulded, vacuum formed, gravity outlets, corners, T-junctions and other network areas are engineered to provide an integrated "gutter within a gutter". Fully versatile, the guttering refurbishment system also offers bespoke moulded syphonic outlet kits for all common systems. Versatile through 35 years of manufacturing and site based experience, the gutter refurbishment system is suitable for all types of gutter complexity and material substrates, whether steel, other metal, concrete, asbestos or timber.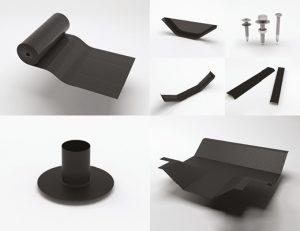 Delcote GS - The Gutter Coating System
Delcote GS provides an alternative system for gutter profiles where it is not possible to mechanically fix the Plygene Gutterline system. With a 10 year guarantee, the system is therefore ideal for the likes of cast iron and lead gutter environments often found within the Heritage sector as well as restricted gutter profiles such as Trimline gutters.
Sharmans roof and gutter coating systems are guaranteed to extend building lifecycles.
Our market leading systems have stood the test of time, providing complete peace of mind to both specifiers and contractors since their market launch into the industrial/commercial roofing sector in 1985.
We have both material and full system samples available, click here to request your sample.
We provide a full specification support service through our Technical team.
Factory engineered to meet this complex site challenge. When Midlands-based facilities management and construction specialists Oakley Industrial Services were asked to provide a fully extended lifecycle solution to 1,400 linear…
"Plygene® Gutterline is a value added service for my clients and I am 100% confident in it every time." Brian Steel of Steel Roofing in Castleford has been working with…
Continuous leaks in the roof of First Bus's depot in Boyle Street, Manchester defied all remediation attempts.
Provisional Met Office figures released at the beginning of January showed that 2014 was the UK's fourth wettest year since records began in 1910. Furthermore, five of the UK's six…