A helping hand to support you the contractor
Versatile through 35 years of manufacturing knowledge linked to site based experience, our systems are suitable for all types of gutter and roof complexity across different substrates. We work with the installing contractor through an approved process and audit/inspect the fitted works on completion prior to authorising the release of the chosen guarantee. This delivers the highest quality gutter and roof refurbishment systems.
At Sharmans we pride ourselves on providing the highest level of technical information and customer support to our Approved Contractor partners. Our technical library provides technical support at a number of levels, with a blend of both hard copy and video materials.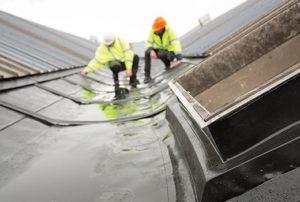 From on-site training to support videos and documentation, we are help to help with your individual training needs.
Our U.K. team of Technical Services Managers have in-depth product knowledge combined with a wealth of practical hands-on roofing industry experience to provide advice and support at all project stages, from initial survey to survey support, site condition reports and performance specification advice.
A full suite of marketing materials are available to include in your tender submission to the end user client.
Leicester Southern Fire Station
Ongoing leaks in the building of Leicester Southern Fire Station resulted in a search for an effective refurbishment solution.
"Plygene® Gutterline is a value added service for my clients and I am 100% confident in it every time." Brian Steel of Steel Roofing in Castleford has been working with…